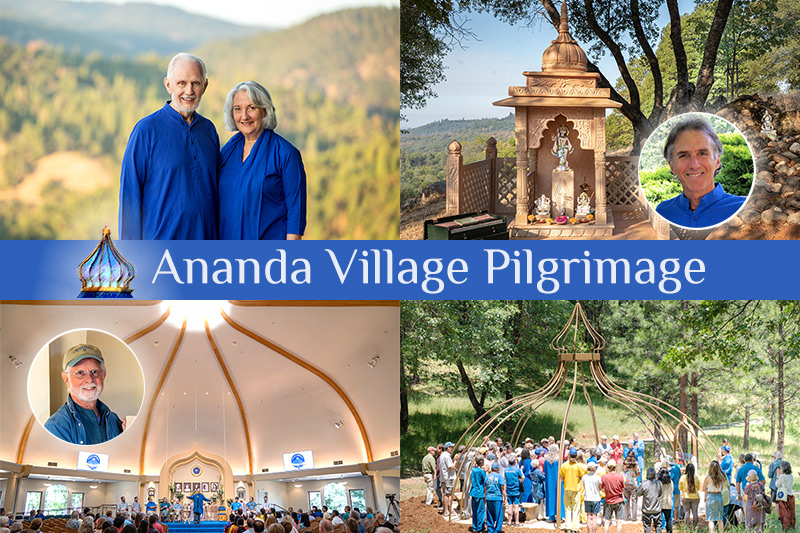 This week a number of spiritual seekers from our Ananda Texas community headed out from their various locations of Austin, Houston, and Dallas, to journey to the magical Sierra Nevada foothills of Northern California. There, nestled in the beauty of nature and this rolling mountainscape above the scenic Yuba River, lies a place of sanctuary and deep inspiration, Ananda Village. It's a place to receive spiritual CPR! Our hearts are being renewed in an experience that epitomizes a "Constant Process of Re-inspiration."
If you have never been on a meditation and yoga retreat, if you have never immersed yourself in your practices in this kind of rarefied environment, it's hard to appreciate the amazing benefits and insights you will receive. In these turbulent times, it is essential that we make the time for immersion and renewal in a profound way. Yes, it can be inspiring to travel to foreign lands or to take a hike through a national park, but when we dedicate time to travel inwardly with others in a place that not only gives us the solitude and peace of nature but also the support of deeply committed yogis, we find we have or will reinforce substantive, and transformative tools that we can take back into our daily lives, lasting far beyond our more conventional vacation renewals.
And while it's not the same as being in person, you can also join the inspiring classes of Inner Renewal already underway online.
You can also consider travelling with Ananda Texas again this summer to Ananda Village June 25- July 2nd for another opportunity of spiritual renewal!
Together in Inspiration and Joy,
Ananda in Texas