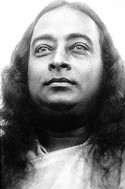 Oct 20: Wisdom of Yogananda Video Discussion Satsang
Oct 27: Kriyaban Retreat Break (nothing scheduled)
Nov 3: Restorative Yoga
Nov 10: Movie Night
Nov 17: Kirtan
Nov 24: Ananda Thanksgiving gathering
Rich with inspiration, the video recordings from this year's Spiritual Renewal Week at Ananda Village themed the Wisdom of Yogananda, will be the focus of our Fun Friday discussion night. We will watch about a 30- 45 minutes recording from that week and then have an interactive discussion. We will do this all over an enjoyable light meal!
Do you need a little fun and upliftment? Fun Fridays are our opportunity to share the Light through a variety of community gatherings sponsored by our members. It will involve all the essential elements of fun for us as aspiring yogis: satsang and upliftment. (Oh, and we will throw in delicious food too! )It will be expressed in a variety of forms from kirtan, to movies, cooking, and other creative applications.
Swami Kriyananda once said
"The purpose of Ananda is to have fun, and what we mean by having fun is to be close to Divine Mother and share her Joy with everyone!"