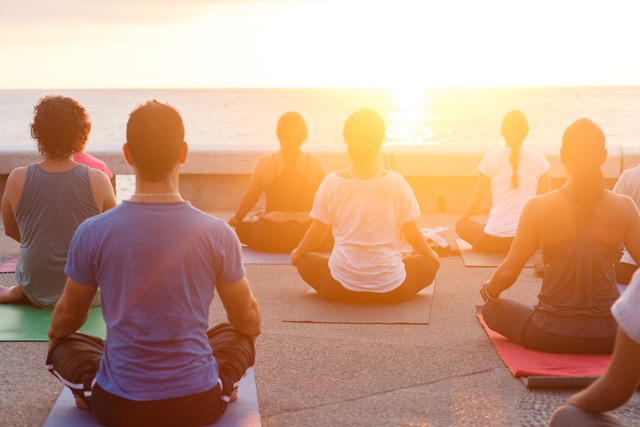 "Vanish the veils" of distraction, anxiety and stress-the false worldly experiences of our human condition- and replace them with the true home of your own positive, calm feelings, revealed during daily better breathing and meditation. Paramhansa Yogananda began his famous poem, Samadhi, with those three words and he encouraged everyone to add to their tool box the advanced breathing pranayama skills, as taught in this course.
In this course you will learn 14 pranayamas of your own highest, true potential that you can then imprint onto the bricks of your castle home. Here are the highlights you will experience.
– Learn natural, even and smooth breathing
– Expand awareness of positive feelings
– Detailed class notes so you can experience more and take notes less
– Hong Sau with variations per Meditation Teacher Training, at Ananda Expanding Light
– Pran and Apan
– Energization Exercises
– Full yogic breath with natural external and internal retentions
– Sitali Pranayama (cooling breath)
– Even count and other count breathing
– Jalandhara Bandha (chakra 5)
– Proper use of stomach muscles for soundless breathing (no throat sounds)
– Lunar Breath (Chandra Bheda Pranayama)
– Solar Breath (Surya Bheda Pranayama)
– Shiva Mudra (finger positioning onto nose for lunar, solar and alternate nostril breathing)
– Nadi Shodhanam (alternate nostril breathing)
– A variety of helpful yoga poses
– Pranayams relating to the various chakras (Uddyana Bandha: chakra 3; Mula Bandha:chakras 1 and 2)
– Methods to keep track of your prananyam – – Bandhas transmute the worldly involvement of the relevant chakra into spiritual upliftment
– Recommended progressions and sequences for pranayamas and meditating
In each class we will start with a class invocation and the most important component of creating an environment of love and support of each other as we learn together.There are no prerequisites, all are welcome!
Cost $54

---
Mike Wolverton is an Ananda Minister,
Certified Ananda Yoga and Meditation Teacher, Advanced Pranayama graduate, RYT200
Please note:
1) Registration is required 24 hours prior to class time unless stated otherwise.

2) All workshops and classes are non-refundable. Credit for future classes can be applied to account if at least a 24 hr notice is received. Thank you.
3) Even though it appears there is ample parking surrounding our sangha house, we ask that you park on the street first as our neighbors are sensitive about the use of their parking lot. Your consideration helps us be good neighbors!