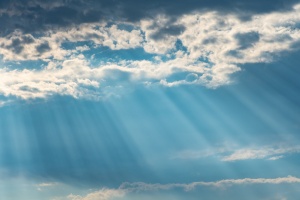 Sunday Satsang at Ananda is inspired by the meditation tradition of the East and the ancient teachings of mystical Christianity, with inspirational readings from both the Bible and the Bhagavad Gita. Service includes music, group chanting and meditation.
Tyagi Narayani and Tyagi Shurjo are the dynamic spiritual directors of Ananda Mumbai. Narayani was introduced to the path when she was 20 and living in her native Spain. After reading the book, Autobiography of a Yogi, her life changed forever, and thus began her journey towards self-realization.While visiting Ananda India in 2005, Swami Kriyananda invited her to move to India and join the work here.  She took her monastic vows and soon
after, she was asked to become Swami Kriyananda's personal assistant, taking care of him and traveling wherever he went. At Ananda's Pune ashram, she met her life-partner, Shurjo, who was also a brahmachari at the time. Their marriage was blessed by Swami Kriyananda himself. He said, "It will help the work." She is the author of the book, "My Heart Remembers Swami Kriyananda"
Tyagi Shurjo, raised an atheist, always questioned life's true purpose, its real meaning. While studying at the National Institute of Fashion Technology (NIFT) Kolkata, he chanced upon the book, the Autobiography of a Yogi. Shurjo committed himself to the path of Self-realization, and the rest as they say is history. While at Pune, he met his shakti, Narayani, there too, adding a new chapter in his spiritual journey. In 2012, Swami Kriyananda blessed their union happily. Both Shurjo and Narayani immersed themselves in service to Swami Kriyananda, as his assistants till his passing in 2013. Having lived and served in Ananda ashrams in Pune, Delhi, Assisi (Italy), and Nevada City (California, US), Shurjo serves in joy to spread the message of Paramhansa Yogananda and Kriya Yoga, wherever he goes.
10:00 Chanting & Opening Prayer
10:15  Short Meditation

10:20 Affirmation from Affirmations for Self-Healing
10:25 Bible & Bhagavad Gita readings and commentary from Rays of the One Light
10:30 Long meditation
11:25 Healing Prayers
11:30 Tyagis Narayani and Shurjo Join Us!